Vacation On The Water In Temagami Ontario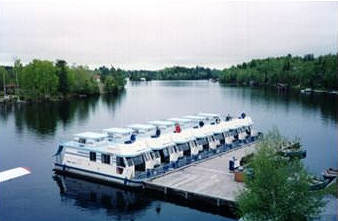 Temagami (Tem-AWG-a-mee) is the Ojibwa word meaning "Deep Water by the Shore", and our area is fifteen percent water.
From the mighty Lake Temagami – with its 2000 miles of shoreline and 1600 islands – to our smallest lake, water activities abound.
Three Buoys Houseboats lets you cruise the water system (with up to nine friends) in one of our forty foot Sportcruisers!
Three Buoys Houseboats in Action:
No Boater's Card? No Problem
We can issue you a temporary boater's card for the length of your trip. No need to go through the licensing process.
Classic Summer Fishing and Swimming
By July 1, we provide excellent swimming, with most lakes reaching 21 degrees Celsius (70 Fahrenheit). Swim right from the boat, or enjoy one of the many fine, uncluttered, sand beaches such as Sandpoint and Wanapitei on Lake Temagami. The shores of Lake Temagami are crown land, so you can camp onshore overnight at one of the first-come, first-served campsites.
Fish from the houseboat, or try it from land. The smell of fresh fish in a pan, mixed with the aroma of wood and forest on a "shore lunch" is a haunting memory, a vacation highlight.
Enjoy Northern Ontario Scenery and Hiking Trails
As well as being a haven for water sports, the Temagami area provides breathtaking scenery. Old logging roads, as well as trails that are maintained by the ministry of Natural Resources, make enjoyable hiking limitless.
See Lake Temagami from Above:
Discover Lake Temagami from the Air with Darren Gareh of Lakeland Airways.